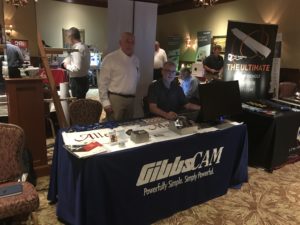 Join us next week for a one-day event at the Ambassador Conference Center in Erie, PA, showcasing the latest advancements in automation technology, robotics, manufacturing and how they affect and compliment the skilled workforce in northwest Pennsylvania. Vendors will demonstrate the latest manufacturing technology for a smarter and more productive shop floor. Educational sessions will highlight advanced technology and applications.
Allegheny Machine Tool Systems, Inc. is a featured exhibitor at this event. We are a machine tool distributor that has been working with customers in western Pennsylvania for over 25 years. AMTSI has a full complement of Service & Applications Engineers along with an office staff that handles parts and scheduling. We will be featuring GibbsCAM and how we can train you to go from a drawing or a model to a finished part. Information will also be available on the diversified, well respected lines of equipment we represent.
The Manufacturing Advanced Expo will be at the Ambassador Conference Center, Erie on May 10th – 12noon – 5:00pm. See details and register at www.nwpa-ntma.com/expo.